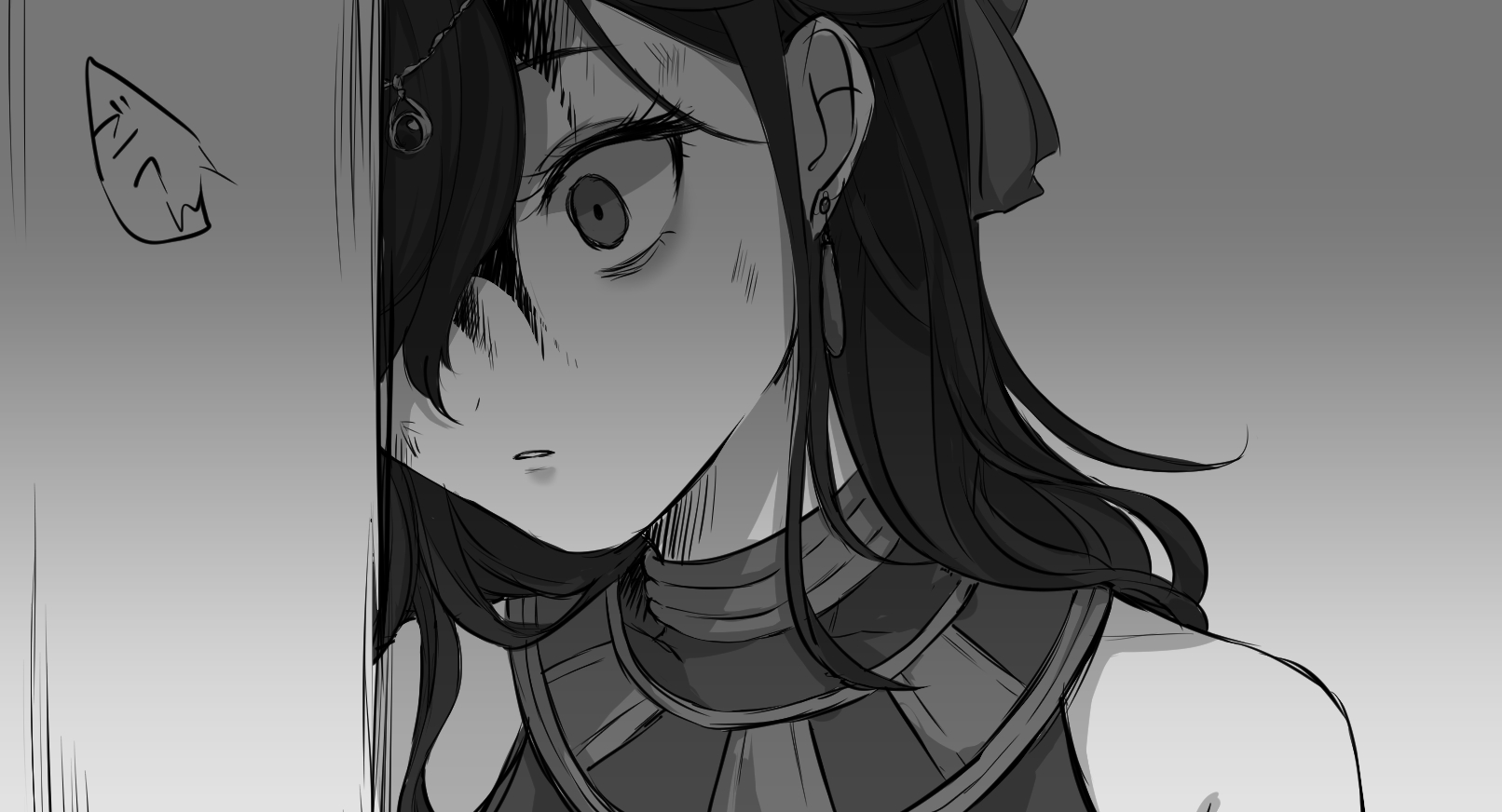 △▼△▼△▼△
Machine Translated By :
Proofread By:
Phantaminum#0097
l3ladeDragon
Japanese to English Checking By:
Art Sources:
※ ※ ※ ※ ※ ※ ※ ※ ※ ※ ※ ※
This an edited Machine Translation, which has been checked by at least one Japanese-English Human Translator for quality. This is expected to have a quality dip in accuracy, therefore, if you read this chapter you must take into consideration the tradeoffs between speed and quality. A proper, higher-quality translation for this chapter is in the works by our team, so if you would prefer to wait for it, then feel free to check back at a later date, keeping an eye out on our social media for updates.
※ ※ ※ ※ ※ ※ ※ ※ ※ ※ ※ ※
Mizelda's expression was resolute as she declared that she would give up her position as Chieftain.
The dominance of her wild, strong-eyed beauty had not diminished, and she was still exactly the same as when they had first seen her. Through thick and thin, the impression of her being a strong woman remained the same. 
And with that notion still present, having lost her right leg, Mizelda had decided to step down from her position as Chieftain.
Everyone: [――――]
The ones surrounding Mizelda, were the ones who harbored a deep sense of regret.
The People of Shudraq, those who had witnessed Mizelda's, their Chieftain's, strength from up close, would not be able to discard their bitterness and sense of loss that easily.
Kuna's lack of expression was intensified by her usual coldness, next to Holly, whose usual relaxed state was replaced with a somber expression. A teary-eyed Utakata bit her lip and cast her head down, while all the remaining Shudraqians too, displayed gloomy expressions on their faces.
However, the one most shaken up amidst them all――
Taritta: [Oh, sister, it's impossible. There's no way someone like me could be a good Chieftain…]
Mizelda: [――Taritta.]
Taritta: [It's because it's you, sister, that you were able to do it! I don't have the ability to do something like that…]
Shaking her head in disagreement, Taritta frantically pleaded.
That she, Mizelda's younger sister, who had personally been nominated to be the next Chieftain, respected and practically worshipped her elder sister was easy to imagine, based off of every single one her daily words and actions.
For that reason precisely, Taritta was in denial, unable to accept the fact that Mizelda had lost her leg. She appeared even more upset than Mizelda herself was.
Rem: […It's because of my inadequacy.]
Taritta's grief-stricken plea was met by a weak, self-condemning voice. 
It came from the other end of the room littered with injured bodies, from Rem, who was in a state of exhaustion, making use of her cane to stand.
She was the sole existence at this place able to use healing magic. Making herself useful, Rem bustled left and right, going from person-to-person endeavoring to save many of the injured. One could only guess from her blood-stained clothes, disheveled hair, and fatigued expression how draining it had been.
Nevertheless, the person in question did not care, and even the appreciative words of Subaru at the beginning had been met with a simple "I'm fine" of dismissal.
Even so, no one had the right to condemn Rem for her lack of strength.
Without her, they would not have been able to attain a result devoid of fatalities from Arakiya's attack. Everyone understood that much.
Therefore――,
Mizelda: [Rem, there's no need for you to be worried. I was lucky to get out of the battle with the Imperial General having only lost one of my legs… No, it's because I had your help.]
Rem: [Mizelda-san… that may be true, but――]
Mizelda: [I'm grateful to you. I have nothing more to say.]
Rem was blocked from speaking any further, as Mizelda repeated her gratitude.
Louis, her long blonde hair in disarray, snuggled up beside the silent Rem. As the former gently picked at the hem of the latter's dress, Rem quietly lowered her gaze, placing her hand on Louis's shoulder.
The remorse and helplessness that Rem was feeling was painfully obvious to Subaru. But the dark-haired handsome man stepped forward faster than Subaru could say anything.
Abel: [Mizelda, you have no intention to change your mind, do you?]
Abel's question as he stepped forward was met with a nod from Mizelda, who sat on an object.
As she felt the surface of her amputated, bandaged leg with her fingers, she said,
Mizelda: [Ah, I have no intention to. The pact between the Shudraq and Emperor of Vollachia will be kept. From here on out though, you should ask Taritta… or rather, the Chieftain.]
Abel: [――. I understand. Mizelda, you have done a great service.]
Mizelda: [Mh.]
Mizelda had hardened her resolve to resign and Abel showed his understanding to her answer while folding his arms. With that, Mizelda let out a small breath and showed a wide grin.
With a faint smile, she glanced upward at Abel.
Mizelda: [If it's going to be that way, show me your smile. It's the duty of a good-looking man.]
Abel: [――. Hmm.]
Mizelda: [Good enough.]
Despite losing her leg only recently, Mizelda was still much too fierce.
Even Abel, arrogant as he was, did not criticize her for her disrespect, and even smiled at her attitude.
Above all, this was proof that the Emperor, whose throne had been usurped, displayed his respect towards the female warrior who lived in the jungle.
And then――,
Mizelda: [――Listen up, my brethren!]
Mizelda's smiling face hardened, as she raised her head to speak in a loud voice.
Hearing the fierce sound of her voice, the Shudraq all straightened their posture as to listen carefully.
Mizelda: [As I told you earlier, I am fulfilling my duty as Chieftain! I now hand over the role of Chieftain to my sister, Taritta! Everyone, obey Taritta from now on!]
Shudraqians: [――――]
Mizelda: [This is my last command as Chieftain. ――Thank you for your ancestral vows and ancestral pride.]
Shudraqians: [――Thank you!]
Mizelda concluded, and the Shudraqians seemed to be reciting something.
He knew not of their customs or longstanding practices. But even Subaru, an outsider and a layman, could sense that it was a ritual of succession.
It was short, informal, and a combination of practical and conceptual inheritance.
In this place, the position of Chieftain of the People of Shudraq had been inherited, going from Mizelda to Taritta.
Taritta: [Sister…]
Mizelda: [Don't lower your head, Chieftain. Your hesitation is our hesitation. Your faltering is our faltering. Your death leads to our death.]
Taritta: [――――]
Approaching her, Mizelda encouraged the new Chieftain, Taritta, the latter's expression was murky.
That would not make Taritta feel any better at once. However, Taritta must have realized that clinging onto her would not change the situation.
After a few moments of silence, Taritta nodded timidly, and silently.
Mizelda: [――――]
The complex emotions that flitted in Mizelda's eyes as she saw this, were something that went unnoticed by Taritta as she lowered her head. ――And it was something that no one but her would mention.
△▼△▼△▼△
Subaru: […To be honest, that was unexpected.]
With the Chieftain's succession spiel and the damage report concluded, Subaru called out to Abel.
Abel furrowed his brow at being stopped without receiving a concrete subject. Showing displeasure, he then inquired about Subaru's true intention with a "What was?",
Abel: [I have much to ponder. You, of all people, should not be bothering me.]
Subaru: [You sure are harsh like always… It's just that I was surprised. You accepted Mizelda-san leaving the frontlines so readily.]
Abel: [――――]
Subaru: [I thought you'd say that all she lost was one leg for sure. I thought you were going to tell her to work herself to death for you.]
Even though he thought it far too extreme, Subaru declared his honest feelings to Abel.
This was the Emperor who had appended the People of Shudraq to his troops for the sake of reclaiming the throne, and someone who had considered polluting the Fortress City of Guaral with poison, if worst came to worst.
Abel―― no, Vincent Vollachia, was very much willing to do such things.
Abel: [Nonsense. What in the world would be the meaning of being so forceful?]
However, Abel's response to Subaru, who had been prepared to hurl words of abuse and his true opinion, was calm and sober.
In front of the disappointed Subaru, Abel looked at the Shudraqians conversing in the distance.
Abel: [Well, I do not wish that my subordinates do any more than they are capable of. Even if I order them to do their utmost, it would be delusional to expect them to go any further than their limits.]
Subaru: [――――]
Abel: [If they overperform in comparison to what they had been evaluated as being capable of, the plan shall be thrown into disarray. I simply request nothing more and nothing less than what I demand from my men. And Mizelda has fulfilled her duty. In that case, the only thing I can present her with, is a reward.]
With words, motivate them. With rewards, get them to exceed their abilities. With praise, make them promise to improve next time.
Subaru had always thought, with absolute certainty, that this was how powerful people subjugated their subordinates. Therefore, Abel's reply was in direct contradiction to what Subaru had in mind.
He would not request labors beyond the capabilities of his subordinates.
It seemed like a good environment for subordinates to work in, albeit simultaneously a lonely one as well.
Abel: [Goes without saying that endeavoring less than what is expected shall be met with punishment. Definite punishment or reward, you do comprehend what it signifies, right?]
Subaru: […Then, does that mean I'm going to be punished?]
Abel: [If you were my subordinate, that would be correct. But are you my subordinate?]
Staring straight ahead, Subaru's eyes widened at Abel's words.
Of course, Subaru did not recall ever becoming Abel's subordinate. In his discussion with Priscilla, Abel had treated Subaru as a military strategist, but he did not have any intention of formally becoming one.
Subaru: [It's not that I'm not attracted to the title of military strategist, but I don't wish to be something like your subordinate.]
Abel: [And so that is how it is. You are not my subordinate, and therefore, you do not fall under the category of receiving definite punishment or reward.]
Subaru: [Thinking about it, just what are you to me…?]
Because of their situation, they were forced to accompany each other. They did not have the relationship of a master and a servant in the first place, nor any kind of personal one.
They were two people caught in a flow of obstacles, and once these obstacles were cleared, their paths would separate. That was the type of relationship they had.
Calling them friends, or allies, or comrades, would just be untrue. If there was something they could be classified as, it would be crossdressing companions.
Abel: [Some have taken the liberty of calling me a friend, but you have not.]
Subaru: [Ah. I'm a shy guy, so I can't become your friend that easily.]
Given the current situation, the person who may have been able to call him a friend here would either be a very good person or a fraud, and Flop would be the former.
Anyhow――,
Abel: [I shall resume my conversation with Priscilla. Go do whatever else you need to do.]
Subaru: [What I need to do…]
Abel: [It should not be required of me to tell you that.]
Being diced by those almond-shaped eyes, Subaru's gaze left Abel and headed towards the corner of the room.
There, he found the figure of Rem sitting on the floor. He could not make out her downcast expression from a distance, but there was no doubt that leaving her alone would not do.
He was somewhat annoyed that Abel had told him to do it first, though.
Subaru: [I don't want you to get in trouble with Priscilla and start another fight. Just be careful with how you talk to her.]
Abel: [I am certain many would advise that you, not I, should be the one to receive those words.]
Hateful words were riposted with further hateful words, and Subaru parted ways with Abel, who returned to the conference hall.
Mizelda's leg would change the situation of the People of Shudraq, so it would be necessary to take that into account when engaging in discussions with Priscilla.
However, there was little room for Subaru in the conversation between the celestial beings, Abel and Priscilla.
The priority for Subaru was to speak to the only person he could.
Subaru: [――Rem, is now a good time?]
He lightly took a deep breath and calmed himself down, before heading over, towards Rem.
Sitting with her knees folded and her back against the wall, Rem slightly stirred at Subaru's words, his figure faintly reflected on her pale-blue eyes.
Rem: […Is that you? When are you going to change your clothes?]
Subaru: [Rem has priority over changing clothes. As soon as this conversation ends, I will change my clothes.]
Rem: [Is that so? Well then, this conversation has ended. Please go change your clothes.]
Subaru: [That's so crude!]
Subaru was left helpless and raised his voice after Rem's blunt retort. At Subaru's voice, Rem's eyes sharpened and she said, "Please be quiet".
Then she jerked her chin toward the girl leaning on her left shoulder.
Rem: [At this rate, you'll wake up the sleeping Louis-chan. Please consider her.]
Subaru: [Well, I…]
Rem: [Or is it just that you do not want to put that much consideration into this girl?]
Subaru: [Don't say it like that. My bad…]
Taking tiny breaths while sleeping, Louis cuddled closer with Rem.
Louis had been helping Rem to treat the wounded; her white clothes were stained with blood here and there. From what he had learned from Rem's attitude and from Utakata, she had done exactly as she had been told, albeit poorly.
Naturally, Subaru's inner thoughts were mixed, though.
Rem: [It throws me off when you make a grim face in that appearance.]
Subaru: [Oh, yeah, my bad. My makeup's messed up, it's rather unsightly.]
Rem: [It looked unsightly even when you had it on properly.]
Subaru: [Tohoho…]
Subaru's shoulders slumped in depression at Rem's remark, which was as harsh as ever. Subaru then slowly sat side-by-side with Rem, at her right, opposite of Louis.
He peeked at Rem's protesting gaze, but consciously ignored it.
Subaru: [Rem, you did great. Everyone survived thanks to you.]
Rem: […I'm keenly aware of my lack of power. To tell you the truth, I'm useless.]
Subaru: [Rem…]
In response to the words of gratitude, Rem looked down at her hands in frustration. As she regarded those pale fingers, Rem was biting her lip weakly.
Subaru: [You're definitely not useless. Even though your memories are fuzzy, you were able to use your healing magic splendidly and saved a lot of people. But…]
Rem: [I know. If I were whole, this magic wouldn't have been like this.]
Subaru: [Like this?]
Rem: [My healing magic. The magic I'm using right now is by intuition, in other words, self-taught. Though with Louis-chan's assistance, I've managed to get it into shape. Even then…]
Rem's words did not continue beyond that point.
The reason why she did not continue after that, was because it was something that went without saying. She knew that, if she put it into words, it would become a blade that she would hurt herself with, and that the pain would console her, albeit slightly.
Complaints, when spoken, would hurt oneself and others. In compensation however, it would lighten one's heart merely a little bit. And Rem disliked the idea of lightening her heart.
It was proof that she truly blamed herself for her inability to save others, because of her lack of power.
Subaru: [――――]
Once again, Subaru painfully understood Rem's feelings.
To rue that one could have done more, was more painful than an unreachable wall. It would be even worse when it regarded someone else's future, someone other than one's own.
――The loss of Mizelda's leg had left something weighty in the recesses of Subaru's heart.
It was not a life. But it was not hard to imagine the magnitude of losing one of your four limbs.
The closest example was certainly Al, a one-armed man who had lost his left arm. Additionally, there was the Watergate City of Pristella; during that battle, Ricardo had lost one of his arms in a confrontation against Gluttony.
It had been an extremely shocking event, but it was not a tragedy so remote that it could not happen. In fact, for those who put themselves in harm's way, it may be more appropriate to call it a familiar tragedy.
Still――,
Subaru: [That's harsh.]
Rem: […Yes.]
Subaru's parched murmur was met with a small nod from Rem right beside him.
This was the first time he had ever gotten a straightforward nod without repercussions, yet he was unfortunately not in the right frame of mind to appreciate it. Rem glanced at Subaru, the latter holding a lump deep in his chest.
Rem: [The previous… If it was the previous me, I wonder how it would've gone…]
Subaru: […If it was the you when you still had memories?]
Rem: [Yes. If it was the past me's healing magic, Mizelda-san's leg could've been…]
"Could've been saved", Subaru closed his eyes at the words that would have followed. 
It was not that he could not comprehend what Rem was thinking. But it was difficult for Subaru, being on the outside, to judge the extent to which the presence or absence of memory had affected Rem's healing magic.
Even if it were possible to quantify the healing power, it would be difficult for Subaru to assess it.
However――,
Rem: [――――]
Rem, her pale-blue eyes filled with earnest emotion, were directed at Subaru.
If the answer she was looking for was something that Subaru could provide he did not know, but there were only two choices in front of him: "The previous Rem could" or "The previous Rem couldn't".
Which of the two would turn out to be the salvation for Rem?
――Or rather, which of the two would save Rem from being hurt even more?
Subaru: […Even with your memories, I think it would be helpless.]
Rem: [――――]
Subaru: [Even healing magic isn't all-powerful. In that case, Rem would have done the best she could.]
He replied after a few seconds of agonizing thought, which felt much longer in Subaru's mind.
Even if Rem had her memories, even if her healing magic had been in perfect condition, she would not have been able to save Mizelda's leg.
The truth was that it was not about "ifs".
If they started talking about "ifs", there would be no end to it. It was true that Rem had not been able to salvage Mizelda's leg. But beyond Mizelda, she had saved the lives of many other injured people.
She should be praised for her achievements, and there was no reason for her to blame herself.
In fact, if someone should be blamed, it should be――,
Subaru: [I wasn't strong enough.]
Rem: [Eh…]
Subaru: [I didn't think enough. I should've examined things more seriously.]
Upon hearing this answer spat out by Subaru, Rem's round eyes went wide.
In front of Rem, Subaru clenched his molars with force, and covered his face with both of his hands.
If anyone were to curse the lack of strength, the blame should fall on Subaru.
Subaru: [All of it. It's my fault.]
Despite the pompous claims of a "bloodless siege", reality was far from such results.
Arakiya's intrusion had caused many injuries, and her recovery had brought death to multiple guards. There had been no casualties within their own ranks, but taking into account Mizelda's missing leg, how could it be called "bloodless"?
He had failed. It was a pile of failures, and the chance for recovery had been lost.
All he wanted was the best possible happy ending, and what Subaru had obtained was either a so-so happy ending or what should be called a so-so bad ending.
To paraphrase Abel's words from earlier, definite punishment or reward―― castigation ought to follow.
Had Subaru been one of Abel's men, it would not be strange for him to have his head chopped off.
――Worst-case scenario, he would have to Return by Death.
Thoughts like these crossed his mind.
In that case, he would most likely go back to the most recent point of return, to the time of the bloody battle against Todd in Guaral. ――The fear caused by the recollection of that time made his entire body tremble.
Still, even if he returned to that moment of terror, if he could recover what they had lost――,
Rem: […Why?]
Suddenly, that word struck the brooding Subaru's eardrums.
Raising his face immediately, he was met head-on by Rem's eyes staring right toward him.
Rem's eyes, which had been moist with remorse until just before, were now staring straight at Subaru, holding even stronger remorse within.
Rem: [Why did it turn into your fault?]
Agitated by Rem's gaze, more words were piled up upon Subaru, rendered unable to move.
She extended her hand, her eyes damp, and while indicating the devastated City Hall she said,
Rem: [So Mizelda-san's leg, Louis-chan's and Utakata-chan's injuries, Medium-san's and Flop-san's wounds, all of it is your fault?]
Subaru: [They are, yes. It wouldn't have turned out like this if I'd been more careful about my preparations.]
Rem: [You thought of a plan, and your seemingly reckless plan had a proper pay off. You were able to hold the General Second-Class in place, and get them into the city without letting anyone fight. Just like we planned.]
Subaru: [But then after that…]
Rem: [――Who cares about what happened after!?]
At Subaru's persistence, Rem raised her eyebrows and made her voice louder. Rem quickly turned her face, and because of this, Louis, who was leaning against her, fell into her lap.
Louis jerked slightly and groaned softly, without waking up. While supporting Louis's shoulder, Rem puffed slightly and looked at Subaru again.
Rem: [No one could've foreseen what would happen after that. The appearance of that half-naked woman and her rampage were all unpredictable. So…]
Subaru: [――――]
Rem: [So why are you responsible for all of that?]
Subaru gulped as the question of "why" was once again asked toward him.
If you asked him why, he would think it was the responsibility of one that had power.
In the same way that Rem lamented the lack of power in her own healing magic, Subaru sometimes regretted and lamented the fact that his own Authority could not make up for it. The scope of Return by Death was greater.
The future could improve or worsen, depending on whether Subaru exercised his power.
However――,
Subaru: [It's…]
――It was a truth that could not be told to another, even if the person was Rem.
It was not restricted to merely Rem.
The authority Subaru wielded, this alone he could not propagate to anyone, no matter how open-minded the other party was. ――No, he was unable to speak of it even to someone he had established an emotional bond with.
If he told them, there was no way he could disclose the truth without possibly causing the death of that person.
He was afraid of pain. The pain brought about from trying to tell someone about Return by Death was terrifying.
Who could get used to that intense pain that gripped one's heart no matter how many times they experienced it?
But what was truly frightening was not the pain, but the loss.
Was there anything in this world that was more terrifying than loss?
Was it not because of this extreme fear precisely, that this Authority had been granted to Natsuki Subaru?
Rem: […Why did you protect me?]
Subaru: [Huh…?]
Rem continued to speak as if she had given up on Subaru, the latter silent and unable to answer.
For a moment, Subaru blinked, unsure of what she was talking about.
Rem: [When that half-naked woman attacked me. I knocked down a pillar, and when that didn't work… That woman came at me, and you stood in front of me.]
In a selfless attempt to save her from being attacked by Arakiya, Subaru had stood in front of Rem.
His hands outstretched, he had been desperate to keep any threat away from Rem. At that moment, Subaru did not care if Arakiya were to take his life.
He wanted Rem to outlive him, for even a second longer.
That was――,
Rem: [The result of your bloodless siege, the fact that you covered for me at that moment, and even the fact that Mizelda-san lost her leg, you're trying to take on everything on your own…]
Subaru: [――――]
Rem: [You're not strong enough to do all those things… At first, I was wary of you because of that horrible smell.]
That was where Rem broke off her words, and once she did, she looked down at Louis on her lap.
Gently stroking her golden hair, Rem choked and calmly turned her gaze back to Subaru, saying
Rem: [I, Louis-chan, Abel-san, Mizelda-san and the others, Medium-san and Flop-san are all human beings with a will, and you don't have to get worked up to protect them.]
Subaru: [Oh…]
Rem: [Please don't try to do anything like that all by yourself. You don't have to take responsibility for our actions.]
Subaru's mouth opened and closed repeatedly, overwhelmed by the shower of words.
His brain refused to comprehend what was being said, in a prompt fashion. However, an unidentified sense of urgency scorched Subaru's heart, forcing him to listen no further.
With earnest emotion, directed at a Subaru cursing his own lack of power, Rem bit back.
He had to stop her from saying anything beyond that――,
Rem: [You aren't a special person――]
He knew he should not have allowed her to say it.
Rem: [――Because, you're not a hero.]
△▼△▼△▼△
Staggering, Subaru walked through the City Hall as if wandering.
He had no destination in mind. It was not even clear when he had started walking, to begin with. When he had come to, he was walking, and if anything, his consciousness still remained in a state of vagueness.
Subaru: [――Hk.]
Suddenly, he was hit head-on by a hard impact.
Taking a look at it, it seemed that he had hit a wall. He was walking while only staring at his feet, that was the reason. Slamming his forehead against the bare wall, Subaru held his aching forehead and exhaled.
Then, without thinking, he slammed his forehead against the solid wall again.
A firm impact and a dull sound, and Subaru felt a stinging pain in his brain.
As he shook his brain from the outside, he felt as if the stagnation that permeated his whole body was slowly receding.
In the same manner, Subaru slammed his forehead against the wall again and again.
Slam, slam, slam――
???: [Hey, hey, stop that, bro.]
As he pulled back to strike again, his shoulder was grabbed from behind. He had been called out.
What came into view when Subaru turned around, was a gaze that met his own from behind a steel helmet directed his way. Still grasping Subaru by the shoulder, the other party cracked the bones in his own neck and spoke,
Al: [I understand the feeling of wanting to die. But no matter how many times you do that, there's gonna be no end to that sorta thing.]